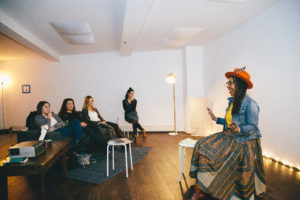 photo by Rachel Hanon
Hi! My name is Taryn Crosby, and I'm a Brooklyn-based psychotherapist, facilitator and consultant.  Through workshops, consultation and speaking engagements, I help foster conversations about challenging, important and sticky topics in an engaging way.  All of my work is grounded in an anti-oppressive, liberatory and sex-positive framework.
I am most passionate, inspired and knowledgeable about mental health, LGBTQ-inclusivity and sexual & reproductive health, and this has been reflected in my latest work:
Lectured on "Queering Clinical Practice" at Columbia University School of Social Work
Led a workshop with staff and board members of Unlocal on dismantling systems of oppression and vicarious trauma
Presented "Working with Transgender Adolescents," discussing clinical considerations  and cultivating a trans-inclusive practice,  at The National Association of Social Workers, New York Chapter Social Work in the City Conference
Led a psychotherapy group on sex & relationships at the city's first yoga-based eating disorder treatment center, Aurora Behavioral Health
To book or get more information click here!